Right tools for using is the most important aspect of good gardening. If you do not use the correct tools, no job on the garden could be completed the way you want. For this, it is important to identify the various garden tools you are expected to use to maintain a clean and beautiful garden.
Spade: Spade is the core gardening tool for gardening. It is used for the digging, hoeing, planting, shoveling, and cutting lawn edges. Spade are two types. Long handled spades have more leverage when digging but the short handled spade encourages the user to grip the handle lower down. Both are used whatever feels comfortable.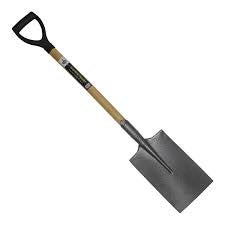 Rake: Rake can be used to make a fine seedbed to open and close seed drills to remove lawn clippings and freshen up graveled areas and flower beds. Even strokes of a rake best, so a long handle can be essential. And the head should not be very wide or too narrow.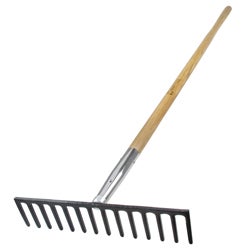 Hoe: Hoe is basically two types. Push hoe and draw hoe. With the help of push hoe you can move backward on to the un-head ground, and thus avoids walking on the newly hoed weeds. The raking off the hoed weeds is essential to prevent re-rooting. The draw hoe is easy to use because the weight of the arms is brought down to help with the weed-cutting action, whereas the pushing action of the push hoe requires that the weight of the arms be lifted at the same time. And it is the main weapon against weeds.

Trowel: Planting trowel is essential for farming bedding and vegetable plants. The handle should be reasonably short, and broad and soft at the end for comfort in the palm of the hand. The knife should come up close to the end of the handle.

Secateurs: The secateurs, or pruners, is the primary pruning tool for farming. It is Essential for roses or fruit trees. It is needed for shrubs on occasion. Secateurs are ideal for the dead-heading, and for cutting flowers and foliage for indoor use.

The type with a curved blade causes less damage to the bark of the pruned stem. Buy a high-quality secateurs shall help you being better designed, they are easier to use, and last longer. A comfortable hand-grip is important.

Hedge-clippers: Hedge clippers are essential if there is a plant to be trimmed, but they can also be used to keep yard edges neat. Hedge-clippers should not be used on bushes, except in certain cases, such as heather, broom, and lavender where there are a lot of shots close together.

It is useful for cutting rockery perennials after flowering. A big range of sizes and plans is available. Choose one with a lock-nut assembly, which allows it to be tightened properly.

Watering can: A watering can have a vital role in ensuring the establishment of young plants of all kinds. It can also be used to utilize weed killers on paths and lawns. It can be utilized as a substitute for a sprayer to apply insecticides too. Most watering cans are sold in a 10-litre size, which is ideal – not too heavy when full.

There are also some more tools for gardening. Those are in bellow:

Garden fork

Lopping shears

Edging shears

Riddle or garden sieve

Garden line

Pruning saw

In the end, the list differences are not significant, Campbell points out. What's important, she says, is always to buy quality products. Quality tools, she emphasizes, makes all the difference in the environment in enjoying working in the garden.